Aug
2
Thu
Churchwide Gathering 2018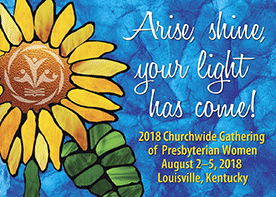 The 2018 Churchwide Gathering will be held August 2–5, 2018 in Louisville, Kentucky! Planning is underway, so follow the PW Churchwide Gathering webpage to stay on top of what's happening.
Jul
25
Thu
Save the date for the 2019 Presbyterian Women of Synod of the Sun Gathering!
Keynote Speaker:
Rev. Katie Cummings
Senior Pastor, First Presbyterian Church of Bentonville, Arkansas
Plan to come for stimulating learning experiences, mission projects, uplifting worship, and fellowship!
Share our flyer with your circles and friends—download here!