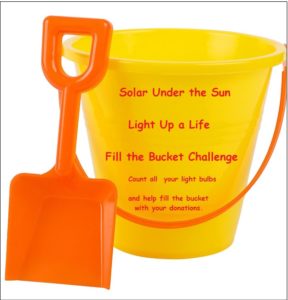 The challenge is on!  Who has the most lightbulbs? Which PW can raise the most funds to support  our Synod-Wide Mission and Peace and Justice project? The Yellow Bucket Challenge not only supports Solar Under the Sun, but encourages individual PW groups to join together and participate in their own home churches while remaining a part of the whole four-state region.  PW groups are also encouraged to widen the challenge and include their church members.  Won't it be interesting to see just how many light bulbs we are blessed with in our Synod?
What's the Yellow Bucket Challenge?
Educate your PW Group, church, Sunday Schools, etc. on the amazing work Solar Under the Sun is doing to provide life saving, life giving "Light for Life" throughout the world. You can use these downloadables to get you started!
Decide when you'll be running your challenge. Let everyone know—this is a straightforward project that all sorts of folks can participate in.
Count the number of lightbulbs in your church, home, and/or place of business.
Drop a dollar – or a nickel, dime, or quarter – into your designated yellow bucket (or basket or bowl or box) for each bulb.
TAKE PICTURES! of your participants, your lightbulbs, your bucket, any Yellow Bucket Challenge events,
and email them with your tally of bulbs to Sharon Curry.
Once the challenge is over, send your donations to
Synod of the Sun/Solar Under the Sun:
PO Box 940272
Plano, Texas 75094

---

Background
We the Presbyterian Women Synod of the Sun Coordinating Team have long known about Solar Under the Sun and the many challenges they are facing as they work to provide life-sustaining solar power to remote areas throughout the world.
We decided to issue the "Yellow Bucket Challenge" to each PW group in our Synod. The purpose of the challenge is to create a Synod-wide joint Mission/Peace and Justice mission and help support the work of one our Synod of the Sun ecumenical partners – Solar Under the Sun.
Materials have been shared with the leaders of PW Presbytery Coordinating Teams, encouraging them to share with their churches, whether those congregations have an active PW group or not. This is a challenge we can all  get behind!
Downloadable Materials
The below downloadables form a packet that include documents to help support a PW group's participation. Realizing that not all churches will have access to email or internet, we've developed several different formats that can be easily printed.
Please encourage your groups to participate by sharing these files with those areas you represent and let the fun and games begin.
Encourage your groups to send the results of their fund-raising efforts to Sharon Curry, moc.liamgnull@842yrrucs. We will keep a tally and be promoting how each group participates on your Facebook page and with periodic updates. Take pictures and send them in— we love to see bright smiling PW faces and to share your stories!